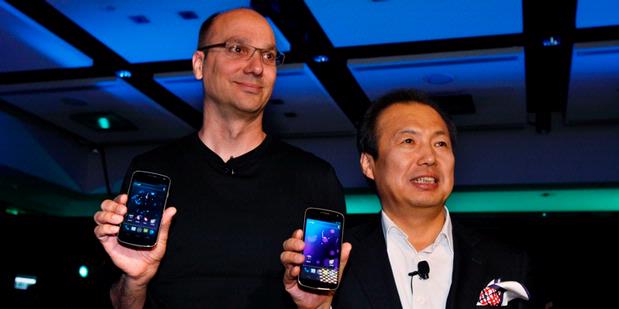 AP Photo/Kin Cheung
Kepala pengembangan Android di Google Andy Rubin (kiri) dan J.K. Shin, president and head of mobile communications business dari Samsung, membawa Galaxy Nexus pada konferensi pers di Hong Kong, Rabu (19/10/2011).
KOMPAS.com — Apple berhasil memenangkan putusan sementara untuk melarang penjualansmartphone Galaxy Nexus di Amerika Serikat. Untuk kasus ini, tampaknya Samsung tak sendirian karena Google telah menyatakan sikap untuk membantu Samsung.

Harian Korea Times melaporkan, Google akan membantu Samsung untuk melawan Apple. Sebab,smartphone Galaxy Nexus merupakan produk hasil kerja sama antara Google dan Samsung. Perusahaan asal Korea Selatan itu telah mengajukan banding atas kasus ini, Rabu (27/6/2012).

"Masih terlalu dini untuk mengomentari rencana permainan kami (Samsung dan Google) dalam pertempuran hukum, tapi kami akan melakukan yang terbaik untuk mendapatkan royalti lebih dari Apple, yang telah memanfaatkan teknologi kami," kata juru bicara Samsung.

Ini merupakan pernyataan atau pengakuan pertama Samsung bahwa Google akan membantu mereka terkait sengketa paten teknologi dengan Apple.

Dengan bergabungnya Google, lanjut juru bicara Samsung, pertarungan hukum ini akan lebih dramatis dan ada kemungkinan "gencatan senjata" dalam bentuk kesepakatan lisensi silang.

Samsung sendiri telah menuntut Apple untuk membayar 2,4 persen dari harga eceran iPhone dan iPad karena keduanya telah menggunakan teknologi Samsung. Apple menilai angka yang diajukan Samsung berlebihan.

Apple telah mengibarkan bendera perang paten dengan Samsung sejak 2010, yang berlangsung di empat benua. Apple menuding tablet dan smartphone keluarga Galaxy menyontek desain dan teknologi software iPad dan iPhone.

Tak hanya dengan Samsung, Apple juga sedang bertarung dengan Motorola dan sebelumnya juga pernah menggugat HTC.